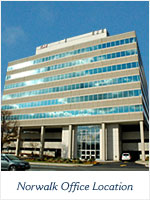 Our Connecticut law firm, now the largest general practice firm in Norwalk, was founded by seasoned lawyers with "large firm" experience who strongly believe that the best and most economical client service is achieved within a smaller firm with few barriers between the skilled principals and their clients. To this end, Goldman Gruder & Woods, LLC prides itself in the following underlying principles:
Pragmatic advice: We counsel clients pragmatically and pursue their objectives without creating "non-issues". We will not waste your time or money chasing unrealistic objectives.
Business orientation: All of our principals maintain a business orientation. We know our clients have budgets, time horizons and clear objectives. Our advice is tailored to these needs.
Client contact: In contrast to larger firms, the same lawyer who meets with the client almost always performs the legal work. The clients' needs are not lost in translation between levels of associates or junior partners. Our invoices do not reflect endless meetings between lawyers to discuss your matter. Turnaround time is faster because work is not constantly revised by multiple personnel.
Excellent staff: Our legal assistants and paralegals are among the finest in Fairfield County. We reward employees who achieve client satisfaction and outperform other firms' staffs. The work delegated to staff (always reviewed by the principals) is quickly and properly performed, and clients are not charged attorney's rates for work which our staff can accomplish.