Goldman Gruder & Woods, LLC practices law holistically, and not within a vacuum of impressive sounding sub-specialties.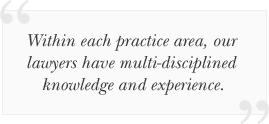 Most clients have issues or problems which require knowledge of numerous fields within the law. Without such a "global" view, important aspects of your matter may get lost as you pay lawyers for needless hairsplitting and micromanagement of issues which are unimportant but allow the lawyer to show off highly sub-specialized knowledge.
As a convenience to clients, we have divided our Connecticut-based law firm into seven (7) very general practice areas: Business and Corporate Law, Litigation (including Appellate Advocacy), Real Estate Law, Default Solutions, Estate Planning/Probate, Health Care Law, and Education/Children's Rights Law. We believe that all lawyers, regardless of the types of matters they primarily handle, need to understand business principles, and business lawyers need to understand litigation, employment law and many other general fields. Therefore, we invite you to learn about our areas of practice, although you should remember that within each area, our seasoned lawyers have multi-disciplined knowledge and experience.